Chris Glass
Meet Chris Glass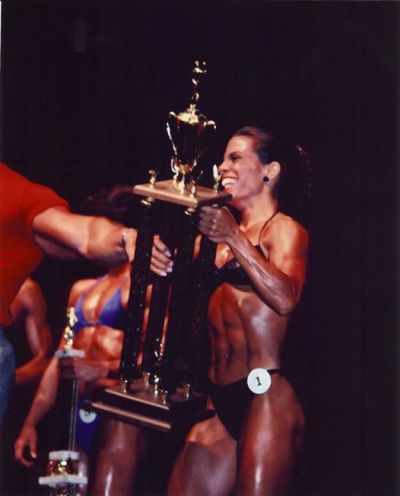 Growing up in LA's San Fernando Valley, I participated in competitive swimming and gymnastics.Then I began weight training/bodybuilding in the early 1980's. I won several city titles throughout Southern California then moved up to take first place in the Los Angeles Championships. Upward from there, after giving birth to my daughter Jenna, I took a year off and set my sites for state and national competitions.
I moved to Hawaii and lived on Maui. I paddled for a women's Outrigger Canoe Race team. I also received my certification for Scuba Diving Open Water I.
I eventually ended up in Honolulu (on Oahu and) co-owned a local gym, Timmy's Gym, with Timmy Leong, former Mr. Hawaii. Timmy's Gym was famous among all the BB stars, Arnold included.

While living on Oahu, I served as Adjunct Teacher for Hawaii Department of Education where I went to local schools and incorporated a strength/conditioning workout for athletes. I worked a lot with Kalani High School and Kamehameha High School, who were well known for their athletic teams. Many of the local coaches would send kids to me for assisted training, which I did at Timmy's Gym. In addition to my weight training, I ran the Honolulu Marathon twice.
Back on the mainland in 2002, I took over as Director of Fitness at a Private Fitness Center in Arizona. In addition to managing a full team of personal trainers, I continued privately training my clients.
With a move to Virginia in 2013, I still remain working with clients and helping people meet their life and fitness goals. I look forward to assisting you too.
1981 First Place Los Angeles Bodybuilding Championships
1984 First Place Lightweight California State Championships - Bodybuilding
1985 Third Place Lightweight Nationals - Bodybuilding
1986 Powerlifting Ranked 3rd in the world - 114 lb. weight class: Bench 185lb. Deadlift 325lb. Squat 325lb (835lb total)
1989 - 1991 Women's Outrigger Canoe team Maui, Hawaii.
Outrigger Canoe Racing, Regatta Season - 4 Gold & 1 Silver, and a Silver medal at Hawaii State Championships.
Outrigger Canoe Racing, Long distance Season our crew took 10th place (80 teams from around the world raced) in the Queen Lili'uokalani "World's largest long distance canoe race."
Naui Open Water I Scuba Certified